FCPC launched! A step forward for professional chemists in Canada.
On June 1 at the Canadian Chemistry Conference and Exhibition in Vancouver, the Professional Chemistry associations of British Columbia (ACPBC), Alberta (ACPO), Saskatchewan (ACPS), Ontario (ACPO), Quebec (OCQ) and Nova Scotia (NSCS) created a new national body called the Federation of Canada's Professional Chemists /Fédération des Chimistes Professionnels du Canada (FCPC).
The FCPC is a federation of professional chemist organizations and regulators. Its role is to:
 promote consistency in the regulation of professional chemists in Canada for the protection of the public;
 coordinate and communicate on those issues that affect the regulation of professional chemists in Canada;
 enable the transferability of professional chemists between jurisdictions through compliance with federal and provincial labour mobility agreements;
 develop and maintain standards of accountability and competency for professional chemists in Canada.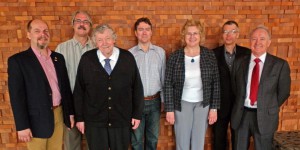 Representatives of the founding organizations of the FCPC (l to r): Terry Obal, ACPO; Colin Campbell, ACPS; Paul West, ACPBC; Stephen Urquart, ACPS, Kathy Janzen, ACPA; Chris Swyngedouw, ACPA; Guy Collin OCQ.  Not shown, but electronically present: Jim Frazee, NSCS.
Paul West (President, ACPBC) was elected FCPC Chair, Guy Collin (Président du Conseil d'administration OCQ) was elected as Vice-Chair, and Cathy Janzen (Exceutive Director, ACPA) was elected Scertary-Treasurer.
Following the founding meeting on June 2, Paul West on behalf of the FCPC signed a Mutual Recognition Agreement (MRA) with the Canadian Society for Chemistry (CSC). Lorenzo Ferrari, CSC President (2013-2014) was the CSC signatory.
These are two significant steps forward for Professional Chemists.  More comments on the FCPC and its role in enhancing the chemical profession are available on the CSC website.