We celebrate BC Technology Skills Appreciation Week
Technology Skills Appreciation Week in BC (March 21 – 25) recognizes the valuable contribution of people working in technological skilled trades to the province's economy and labour force. The technology sector of the BC economy relies on the skills of science and engineering technologists and professionals to grow and prosper. More information.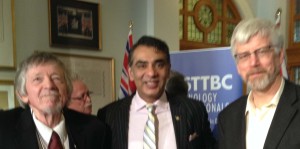 Paul West, President ACPBC, Minister Amrik Virk, Technology, Innovation and Citizens' Services, Tom Fyles, Registrar ACPBC. Photo courtesy of Dr. Vanessa Craig, President College of Applied Biology.